The Lee-Johnson Gallery as it is now known, was the brainchild of Eric Lee-Johnson (photo) and a committed group of locals who saw the potential in the old Tech School building and asked the Council of the day if they could rent it and set up an art gallery and a museum.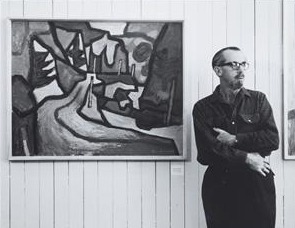 The Council liked the art gallery idea, but thought a museum was not needed as "people weren't interested in the history of the town". Despite this, the group collected signatures around town in support of the project and in 1962 the Waihi Arts Centre and Museum Association became a reality. Few private galleries were available at this time for up and coming artists who wanted to show their work, and who were not just following overseas trends of the time. It was ground breaking stuff, and became a highly regarded establishment. Over time and with more public and private galleries opening, the emphasis has changed.
Currently during the year we exhibit local artist groups, travelling quilt shows from NZ quilt artists, and children's art from various local schools. During December and January we hold the Summer Exhibition which is a mixture of various arts – painting, quilting, fibre art, claywork and sculpture. This is a quality showing from our local artisans and is always well received. The Summer Exhibition this year will be especially important as it coincides with Waihi Arts Centre and Museum's 50th anniversary.
A Dual Role: Exhibitions and a Theatre
Today the Gallery has a dual role. It hosts local and travelling exhibitions (see a few images from our Permanent Art Collection) and also doubles as a theatre where a Powerpoint presentation about life in early mining times is played to school groups that visit.