Photo: Akrad staff photograph taken during the early part of World War II.
The pattern set in these formative years was largely followed up to the beginning of the war, there being two more shifts, the first to the premises in Rosemont Road next door to E. A. Clark's pharmacy and the next to a site in upper Seddon Street.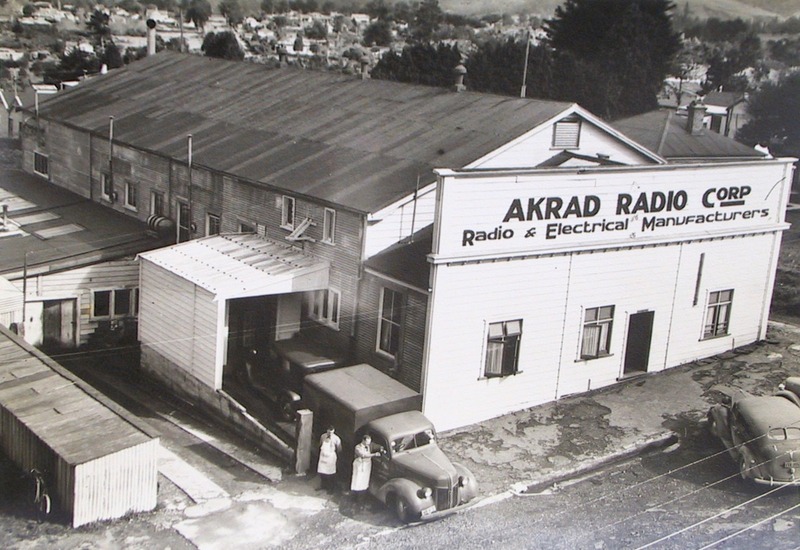 Photo: The Akrad Radio corporation's plant, Haszard Street in the 1940s.
Staff increased in this period to nearly fifty and further building extensions were made. Radios and components were being sold all over the North Island, although most of the business was done in the Auckland area. Other lines developed with the same success during this period were battery chargers, poker-work machines and electric fences. The first electric fence which was developed and operated as a 'trial horse' electrocuted a farmer's dog, which meant it had to be quickly recalled for further development.
As the war progressed many problems arose. Key personnel went into the forces leaving a tremendous load on those left.
In 1943 the Government decreed that the manufacture of domestic radios must cease and while contracts for defence equipment were in the offing there was an immediate hiatus which was barely filled by the manufacture of morse keys, buzzers, signal lamps and sirens suitable for local defence Home Guard use. Eventually defence contracts were procured and once more new premises were required.
This resulted in the purchase - for 600 pounds in 1943 - of the King's Hall in Haszard Street. Equipment for the services included radio frequency coils, morse buzzers, valve boxes and communication radios.
During this period until the war ended in 1945, the staff level increased to ninety. Towards the latter part of the war, Keith realised that Akrad could be in serious difficulties when hostilities ceased, as the firm had now doubled in size and he was not sure that he could obtain radio components quickly enough to maintain factory loading, nor was he sure that he could sell the output should he obtain the parts.
He met these problems in two ways. Firstly by introducing a new line of goods in the form of children's tricycles, for which he could obtain raw materials and which he was also sure he would have a ready market. His second move was to arrange for a separate marketing organisation to sell the now enlarged factory output.
End of an Era
Both of these moves were successful, the tricycles meeting ready market acceptance. With the factory straining to change over from war-time production to meet this new challenge, as well as redevelop its domestic radio manufacturing activities, the new marketing organisation played a full and essential part in distributing and selling these goods.
Unfortunately these new arrangements has hardly begun when Keith Wrigley died suddenly on New Year`s Day 1946. This ended a definite period of development in the life of Akrad, where over the previous 14 years Keith and his loyal group of workers had, virtually on a shoestring, developed a small radio shop into a large manufacturing organisation employing over ninety people.
Further Expansions
A new era for Akrad had now begun. During the war Keith Wrigley had become closely associated with George A. Wooller, senior project officer to the Controller of Radio Production. George Wooller had previously been production manager at Radio Ltd, Auckland, and had been seconded to this position for the duration of the war. This association led to George Wooller forming G. A. Wooller and Co., distributing company for Akrad manufactured products and this in turn had a profound effect on the post war growth of Akrad.
Under Keith Wrigley's will, a company was formed under the direction of the Public Trustee, G. A. Wooller, W. Leitch and W. Meiklejohn. At this stage it was in considerable financial difficulties through having to meet death duties and income tax.
As the Public Trustee had no knowledge of radio manufacturing, they called on George Wooller and Mr Moore Haszard to manage Akrad through this difficult period until the appointment of T. J. F. Spencer in February 1947. On April 1 of that year the business was sold to shareholders and formed into a limited liability company - Akrad Radio Corp. Ltd.- with a capital of 30,000 pounds. This resulted in its financial affairs being put on a proper footing and George Wooller was now able to devote his main efforts to the selling side while Tom Spencer proved an efficient manager.
Although radio production remained Akrad`s principal interest, the company also utilised its machine shop for the production of other lines. Tricycle production, which was begun in 1946, reached its peak in 1947 when three quarters of the staff were engaged on it.
A number of prototype motor scooters were also produced by the company and one of them was ridden by Mr T. Spencer and Mr Ernie Hands on an extended proving trial from Waihi through Rotorua, Taupo, Napier, Wellington and back to Waihi via Palmerston North, Wanganui and New Plymouth. The only imported components used were the tyres, motor, chains, and of course the steel.
The company also made a trial production run of rotary lawnmowers, which were the first of their type manufactured in New Zealand. A trial run of kitset refrigerators imported from Australia and assembled here were also tried at about the same time, but the directors of the day felt that neither the motor scooter, fridges nor the lawnmowers were in line with the company's main objectives within the field of radio. So although they were interested in finding ways of expanding, these ideas were shelved.
Rapid strides were being made with the introduction of a complete range of domestic radios from portables to large cabinet models and a chain of dealers to sell the products was also being steadily built up by G. A. Wooller and Co. Ltd., who still marketed all Akrad's products.
Next: New Beginnings