Much has been written over the past one hundred years about the 1912 Waihi goldminers' strike, a significant event in New Zealand's history. The politics, personalities, problems, police involvement and the impact of the strike have been analysed, discussed and debated in a plethora of books, theses, essays, reports and articles. Little, however, has been recorded about the women who experienced the 1912 strike. H. Holland et al acknowledged the women when they dedicated their book The Tragic Story of the Waihi Strike 'to the splendid women of Waihi … '. The women referred to here were, of course, in support of the strikers.
One of these women was undoubtedly "Grandma Green" who witnessed both the 1908 Blackball coalminers' strike and the Waihi goldminers' strike. In October 1912 the Auckland Star reported that Grandma Green had been referred to as "the heroine of Blackball'' and that while in Huntly she had recounted tales of the happenings at Waihi. No explanation has been found as to why she was "the heroine of Blackball." (Blackball is a small town on the West coast of the South island. Unhappy with their 15 minute lunch break, the town's coalminers went on strike for three months in 1908 demanding the right to a half hour break for lunch.)
So who was Grandma Green – the persona?
Grandma Green was a semi-legendary figure of the pioneer NZ Labour movement. On 22 March 1912 the NZ Social Democrat reported: "Grandma Green, the grand old woman of the revolutionary movement of this country, is in Huntly spreading the gospel of education towards revolution. She has been instrumental in forming a Women's Socialist League. Hail to Grandma!"
So far no information has been found which links Grandma Green to any women's socialist organisation.
There are several references to and letters written by Grandma Green, in the Maoriland Worker, widely considered the most important publication of the New Zealand labour movement.
On 2 June 1911, we read that Gramma [sic] E Green, Waihi, amongst others, gave money to the Socialist Party Fund.
And on 12 April 1912, "… very few people who can lay claim to 53 descendants, as Grandma Green can. Yet such a record did not prevent our gracious Government from prosecuting her for riding in a superior compartment with an inferior ticket on December 26, 1911, from Auckland to Huntly, when, as is usual at holiday times, there were no available seats elsewhere. Neither did it prevent the magistrate from imposing a fine for such heinous offence…"
These letters written by Grandma Green and published in the Maoriland Worker show her passion for the socialist cause.
MOTHERS, UNITE!

29 March 1912:

Sir, — I have been wondering what has gone wrong with the human family. Can it be possible that men have turned into fiends? Greed and ambition have so changed that once prattling baby into something so cruel and nauseous that I turn away and inquire — Where is this God of love who was supposed to say "love one another." I read in the "Herald" where one viper says, "My idea, would be to compel the boys to register before they could have a vote, and also by not complying with same, as an old man he should be deprived of the old age pension." At 65 he is to starve, when his body is bent and his limbs totter — this is to be his reward! There is another fiend who says, "I will put a padlock on my storehouses, and none of those retail dealers shall get any more of my goods; we will starve them into subjection." And yet another says, "I will tie up all shipping and you workers shall be made to remember — you and your children and wife shall die." This is love! "Love one another." Young men, are you going to allow this state of things to exist? I say "No." Rise up in your strength; be men; you have the power, use it. Be true to one another, true to yourselves, and true to the men who are in front of the battle. A word to the mothers and daughters of our country: Get to work, think! Are you going to live lives of poverty and misery when you have the power to alter it? You are crushed under the iron heel of capitalism. Mothers, united with your husbands and sons, you will make the enemy tremble; if your husbands strike, you know it is for you and the little ones; do not discourage them, strike with them — a twofold cord is not easily broken; do not be afraid of starving, we will take good care you don't. Your cause is just. Be true to yourselves and children. Down with oppression and misery. Mothers, unite and fight under the red flag of Socialism, the flag of liberty and justice.
— I am, etc., Huntly. GRANMA[sic] E. GREEN.
And who was Grandma Green – the person?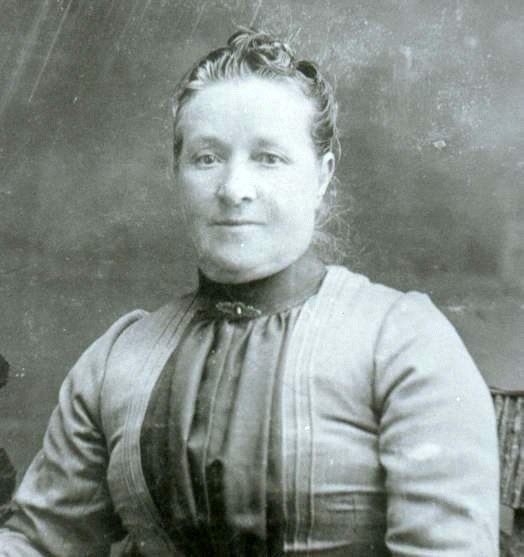 In the 1911 Electoral Roll Elizabeth Green, a widow, can be found residing in Kenny Street, Waihi. A son Samuel John Green is also living in Kenny Street.
Her NZ descendants provided the following information: 'Elizabeth Green nee Stanton was born in Portadown, County Armagh, Ireland, on 3 April, 1845, the daughter of James Stanton and Margaret nee Mussan. Elizabeth married John Green, a soldier, on 16 May 1865 at St. Matthews Church, Auckland. They were to have 12 children; their second child died aged 7 months. Most of their children were born in Thames where John took up mining after leaving the army. In August 1896 John, by then a shoemaker, died in Taylorville, on the West Coast and was buried at Stillwater Cemetery.'
Going back to the 1908 Blackball strike – there is evidence that Elizabeth Green's family were involved: on the list of miners who participated in the strike there is F.(Frederick) Green, a son and Henry J Fox, a son-in-law, who was the vice-president of the Blackball miners Union at the time and one of seven miners dismissed by the company. All seven were members of the Blackball branch of the Socialist party.
There are references in the Maoriland Worker, in 1909, to S(amuel) J Green, secretary of the Blackball Socialist Party, and in 1911, member of the Waihi miners' Union committeeAnother son Charles James with his wife and family, and a daughter Lucy Adelaide and her husband John Parsons and family, lived in Waihi. Frederick Green moved to Huntly following the Blackball strike.
After the 1912 strike it appears Elizabeth Green moved to Auckland. In March 1913 she attended a function at Runanga to farewell Mr and Mrs Robert Semple.
An item in the Maoriland Worker on 7 March 1913 reported the event:
Hearty Farewell to Mr and Mrs Semple
"Of the many visitors present, Mrs. Green, of Auckland, and Comrade F. Cooke, of Christchurch, deserve mention."
Samuel moved to Wanganui. He enlisted in the army in May 1916 but was deemed medically unfit for service, due to miners' phthisis.
Charles James Green was a miner, working for the Waihi Gold Mining Co. The Company Time and Wage Book 1912 shows C. Green, a contractor, working up to the start of the strike in May. This report in the Auckland Star, 16 November 1914 suggests Charles did not wish to participate in the strike, thus opposing his mother's stance.
PETITIONS FOR DIVORCE.

Auckland Star, 16 November 1914

OFFENCE ADMITTED. Charles James Green brought a suit for divorce against his wife, Elizabeth Rachel Green, and Charles Keane as co-respondent. Mr. Lundon appeared for the petitioner, and the case was undefended. Evidence was given that the parties were married at Brunnerton in 1892, and that up till shortly before the strike they had lived at Waihi, where the petitioner was employed as a miner. His wife had made admissions of adultery, and he had forgiven her, but she had offended again. There were three children of the marriage. A decree nisi was granted, to be moved absolute in three months, costs on the lowest scale being allowed against the co-respondent.
Charles returned to Waihi and remarried in 1915. He served in WW1 as a member of the NZ Tunnelling Company in France.
Mrs Green spent the last few years of her life in Whangarei, where several of her adult children and their families lived. She passed away on 6 November 1927. This death notice appeared in the Northern Advocate on 8 November 1927:
DEATH: At her son's home, Russell Road, Elizabeth, dearly beloved wife of the late John Green, in her 81st year. Private interment. She was buried at Maunu Cemetery, Whangarei in an unmarked grave.
It is the writer's belief that "Grandma Green" and Elizabeth Green nee Stanton are one and the same person. Several of her descendants have been contacted, but none of them were aware of their ancestor's socialist leanings, although they say that family members were strong labour/union supporters.
About 18 months before her death this letter appeared in the 10 March 1926 issue of The NZ Worker, previously The Maoriland Worker:
Dear Sir, I have been a subscriber to your paper since its origin,and having read in the issue of January 13 the article by Mr J. A. Lee take this opportunity of expressing my sympathy with his views regarding the publication of a booklet dealing with the pioneer Labour movement. Having had the pleasure of a personal acquaintance with the great majority of the then leaders and sufferers, I am in the position of being able to open the closed book of the past, and would be ready and willing to do so. I was then a resident of Blackball where was sown the first tiny seed of Socialism, which in spite of adverse circumstances, and lack of nourishment has yet grown, and will one day flourish greatly and bear fruit; and why should not those responsible for the sowing of that seed not enjoy the harvest it will undoubtedly yield? Let us hope that the fire of love which enveloped them is not extinguished, but will burn more brightly now. The following are those of whom I would write: Messrs Holland, Parry, Savage, Fraser, P.H. Hickey, Howard, "Fighting"Bob Semple, "Pacific"Paddy Webb, Fitzgerald, Goldsmith, T. Armstrong, and the information is to be given if desired. Although I shall soon be an octogenarian, I am still in fighting trim. – GRANDMA GREEN
It is regrettable that no one took up her invitation. It would have been most enlightening to read about the personal experiences of this remarkable woman.
Author: Robyn Ramsey
July 2013
Thanks to Jared Davidson, Mark Derby, Peter Clayworth for their input, and the Green family descendants for family information and the photograph of Elizabeth Green.