Eric Lee-Johnson (1908 -1993)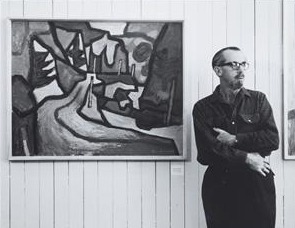 Eric Albert Lee-Johnson was born in Suva Fiji in 1908, and the family came to New Zealand 4 years later. At the age of 18 he entered Elam School of Fine Arts.
In 1927 he was employed as junior artist in the printing works of Wilson & Horton, at the rate of 20 shillings a week, and began a long association with the world of commerce.
He travelled to England and while there he re-established contact with some of his Elam contemporaries and began a lasting friendship with the poet A R D Fairburn with whom, at the ASA Gallery in Auckland in 1945, he was to share his first exhibition.
In 1944 and back in New Zealand, he became the Auckland contact for Art in New Zealand, following up with becoming editor of the Arts Yearbook. This was a yearly overview and visual record and commentary on "the state of the arts in New Zealand" in the post-war era. The editing work became a labour of love which took him to all corners of the country to interview artists working in many different media. Eventually the effort put into this venture caused him to suffer a breakdown and he spent 10 months in recovery.
During the 1940's and early 50's there were few ways for emerging artists to become known and the Arts Yearbook was one way of putting the arts before the public.
Of course since the 1950's the art climate has changed immeasurably with many private galleries and print and internet media making all types of art much more widely available.
As well as drawing and painting, Lee-Johnson was experimenting with black and white photography and was way ahead of the times in terms of his techniques. In 1999 a tribute to the late photographer entitled "Eric Lee-Johnson - Artist with a Camera" edited by John B.Turner was published by Photoforum group. This went some way towards showing just how advanced his techniques were. He had commented that he didn't want to be known for his photographs as "people would think I copied them for my paintings".
During the summer of 1955 -56 while he was living in Northland he spent many hours documenting the antics of the famous Opo dolphin in the Hokianga Harbour. His images were sold worldwide and featured in the Auckland Weekly News and a documentary of the man and his work was made by Maurice Shadbolt.
In 1969 the collection "Drawings from North New Zealand As I See It" was published by Collins. The drawings and accompanying text gave further insight into the way in which Lee-Johnson viewed people and places.
In 1981 the Waikato Art Museum mounted a retrospective exhibition exhibiting 75 works documenting progress over almost half a century.
This exhibition was organised by good friend, Campbell Smith who had been living in Waihi during the period when the Lee-Johnson's were also living there. Together with some other keen locals they had been instrumental in setting up the Waihi Arts Centre and Museum in 1962.
In due course the Arts Centre and Museum became established, and the Lee-Johnsons moved away to Northland, where Eric continued to paint and photograph the landscape around him. A series of 700 photos of majestic pohutukawa trees was a project that was completed but never became a published work.
He finished his autobiography "No Road to Follow" just be fore his death in May 1993.
Much of Eric's photographic collection is now in the archives of Te Papa Tongarewa Museum of New Zealand in Wellington. Some can be viewed on-line.
Whangarei Art Museum has a small collection of his paintings, and the various family members hold collections as well.
WACMA is intending to add to it's collection as and when the opportunity arises. Currently we hold 8 framed works with 13 unframed works on paper having just been added to our collection.
Further Information:
"Drawings from North New Zealand - As I See It" - Pub. Collins 1969
"Pelorus Jack's Successor - the Life of Opo" NZ Film Archive from Pictorial Parade # 47 (1056)
"No Road to Follow" Eric Lee-Johnson Pub. Godwit Press 1994
"Artist with a Camera" edited by John B. Turner Pub. PhotoForum group 1999