St James Presbyterian Church WWI Memorial List (pdf)
Waihi High School Honours List WW1
Waihi District High School Roll of Honour WW1 - Auckland Star 24 March 1916, page 2
The Waihi Art Centre and Museum Association is keen to locate the whereabouts of this WW1 Honour list or board noted in items from the Auckland Star (Volume XlV11 Issue 72 24 March 1916 page 2) and The New Zealand Herald (Vol L111, Issue 16189, 28 March 1916 page 4), both located on paperspast. Enquiries to date suggest the framed Honour list is not anywhere in Waihi's Kings Theatre (now SPCA op shop), Haszard street.
According to the New Zealand Herald, the Honour list was installed on 28th March 1916 in the Kings Theatre. To quote the Herald:
… it is an artistic piece of work, plainly yet richly framed. An appropriate design shows the figures of Britannia standing in the upper right hand corner, sounding a clarion call to arms across the globe of New Zealand, represented in the lower left-hand corner by a sturdy young colonial in football costume, who, hearing the call, is in the act of dropping a football and grasping a rifle with fixed bayonet. At the head are the words. "Waihi District High School" and the school motto, "Duty our watchword." Below, resting on the globe, is the scroll containing the names of the old boys who have enlisted, with, in four or five instances, the further sad announcement, "Killed in Action."
If anyone has seen this framed list or memorial in the past, or have knowledge of its possible whereabouts now, please contact the museum.
WW1 Honours Board gifted to Museum
This attractive Roll of Honour was gifted to the museum and names the men Killed in Action and those serving during the World War One. The Roll of Honour is from the defunct Waihi Wesley Methodist Church (now Assembly of God) in Haszard street, Waihi.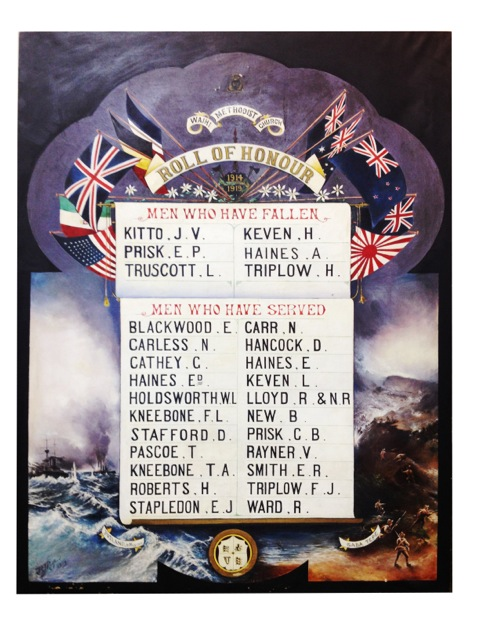 See full article on this WW1 Honours Board.
Click on an image to enlarge: