1st Battalion 3rd New Zealand Rifle Brigade, A Company.
Service number: 23/307
Leonard Truscott was living in Baker street Waihi, possibly with his parents, when he enlisted in May 1915. Truscott was the son of John Truscott and Mary Denton nee Towers.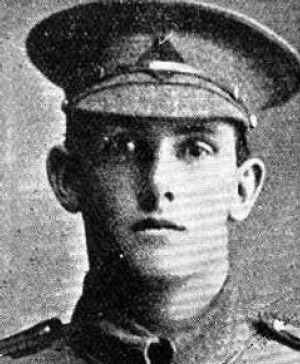 Following the birth places of John and Mary's children it can be seen that the family moved between New Zealand and Australia and back again, perhaps because John was following the gold.
John and Mary Truscott married in New Zealand in 1885 and their known children were:
Alice Jane: born 4th Nov 1885 New Zealand.
William John: born 7th August 1887, New Zealand, married Jessie Isabel Milne 1912.  Leonard born 28th June 1889 Silverton New South Wales Australia. Never married.
Ivy Ellen: born 1891, Silverton NSW, married Thomas Arthur Taylor in 1911 in New Zealand.
Reginald James: born 1901, NZ, married Marie Ray Foster 1930, New Zealand.
Sometime between 1887 and 1889 John and Mary shifted to Silverton NSW Australia and returned to New Zealand prior to 1901. The older Truscott children were schooled first at Broken Hill NSW then Kauaeranga Girls (Thames NZ) where they were enrolled from 20th April 1896. By 1909 it would appear from the Waihi Daily Telegraph that the family lived in Waihi when L Truscott ran a half mile race at the 1909 Katikati sports. The 1911 Ohinemuri Electoral roll notes John, a miner, and Mary Truscott living in Waihi. Like most residents living in Waihi during 1912, the family were affected by the Waihi miners strike. Leonard and his father, John were listed as strike-breakers in the The Tragic Story of the Waihi Strike by H Holland.
At the outbreak of WW1 (August 1914) Waihi Gold Mining Co (Martha Mine) Time and Wage books held at the Waihi Arts Centre and Museum, show Leonard as working with his father, the head of his gang.
Waihi Gold Mine Company Timebook - pay period ending 1.8.1914
On the 24th May 1915, the Ohinemuri Gazette (Paeroa) recorded Truscott and recruited men from the Hauraki district were scheduled to leave Paeroa by train on 25th May for Frankton Junction (Hamilton) to embark for Trentham. The special express to Trentham originated in Auckland and presumably stopped at stations enroute for newly recruited soldiers to embark. Leonard signed his New Zealand Expeditionary Force attestation papers at Trentham 29th May 1915. They state his year of birth as 1890, a year younger than shown on other documentation seen. His medical records describe Leonard as fit for active service.
Truscott embarked in Wellington 9th October 1915 for the Suez, Egypt where he disembarked February 1916. Two months later Truscott embarked for France. On 15th September 1916 Rifleman Leonard Truscott was admitted with chest wounds to 12 General Hospital, Rouen, France and died, aged 27 at Rouen France 9th October 1916. He is buried at St Sever Cemetery at Rouen.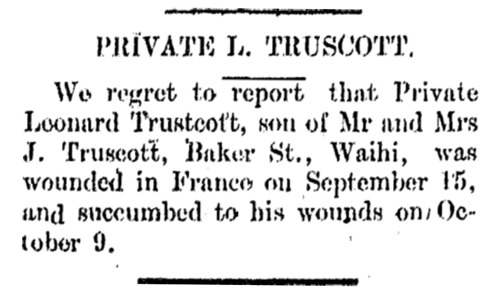 (Obituary Thames Star, 17 October 1916)
Leonard's will, signed 10 September 1915, bequeathed to his mother, Mary Denton Truscott, (C/O Mrs Loveridge, Lake Rd., Frankton Junction, Hamilton) all his possessions and monies deposited at the Post Office Savings Bank, Waihi. The scroll and plaque that acknowledges a WW1 KIA death and Leonard's Victory and British War medals were sent to his mother in the 1920's.
References:
Archives nz archway
NSW Registry of Births, Deaths and Marriages - Historical Index Search
1911 Electoral Roll Ohinemuri
Paperspast
Internal Affairs Department online historical BDM
Waihi Gold Mining Co Time and Wage Books lodged at Waihi Art Centre and Museum
Commonwealth War Graves Commission
The Tragic Story of the Waihi Strike, by H Holland
Auckland  Memorial Museum and Auckland Weekly News
Digital NZ