Gold-bearing rock, known as ore, was mined from the quartz reefs deep underground in Martha Hill. It was hoisted to the surface and then taken eight kilometres to the treatment plant at Waikino by rake train on a specially built tram line. The site at Waikino was chosen because power was on hand from the Ohinemuri River. Later in 1913 electric power became available from Horahora, the mining company's own hydro-electric station on the Waikato River.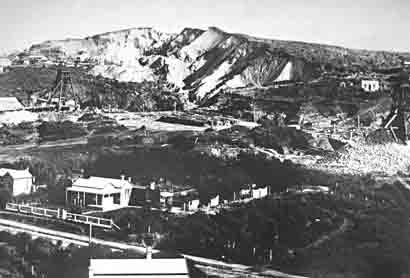 Photo: The original open cut at the Martha Mine. A poppet head giving access to the underground workings can be seen at the top left of the picture. Junction Road is in the foreground. Junction Road is in the foreground.
Crushing
On arrival at the treatment plant the ore was tipped from the rake of railway trucks into a jaw crusher. This reduced the size of the ore to no larger than a cricket ball. Water was added and the mixture was pounded in a battery of heavy stamps until it was the consistency of beach sand. Next it was fed into a series of rotating horizontal cylinders called tube mills. Very hard Norwegian flint rock - and in a later development steel balls - ground the rock to a very fine powder.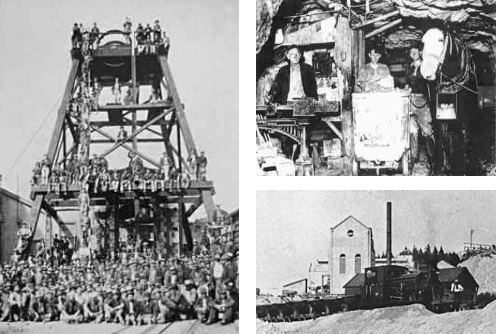 Treatment
After passing through the tube mills the mixture of pulverised ore and water was pumped into 15 metre tall cylindrical tanks called Brown Agitators. Sodium Cyanide was added. The slurry was kept moving by means of compressed air. After five days all of the precious metals had been dissolved by the cyanide solution.
Filtering
The slurry was then separated. The solution which contained the dissolved precious metals was filtered out through special canvas frames assisted by a vacuum pump. The now barren rock slurry - called tailings - was discharged into the Ohinemuri River. Each day 800 tons of tailings were disposed of in this way.
Precipitation
In a specially guarded room the gold and silver were recovered from the solution by running it over zinc shavings. The precious metals precipitated onto these shavings as a black sludge. The sludge still contained some base metals, and was sent back to Waihi to be refined.
Refining
After preliminary treatment in a cupel furnace to remove most of the base metals the gold and silver were further refined electrolytically and the bullion was then cast into ingots of absolute purity, ready to be sold on the world market.