Six Morpeth Brothers enlisted in WW1. Allan born 1884, Gerald (Tad) b. 1886, George Douglas (Chap) b 1888, Robert Nicol (Nick) b 1891, Moore b 1894, and Sloan Ivan b. 1897. A seventh son, Arthur Johnston born 1900, died 1902. They were the sons of Henry Douglas Morpeth, town clerk, Waihi Borough Council, (born Canada) and Kate nee Allan (born Scotland). Of the six, two paid the ultimate price and the remaining four were wounded.
Allan Morpeth
2nd Lieutenant First Battalion Auckland Regiment NZEF
Service number 18899
…. This offensive is the greatest that has ever been taken and the rain ruined it. They had to stop because of the weather – you have no idea how shell torn the ground is when it rains. It is impossible to walk across it and so the stunt is off for the present but Fritz will get a big fright before the end of the winter. I am sending this diary to England with a few things I got at Messines. It will be posted from there. I am in tiptop form and will stop. With love to everyone in New Zealand.

This was the last entry in the diary of Allan Morpeth and dated 13 August 1917, just prior to Passchendaele.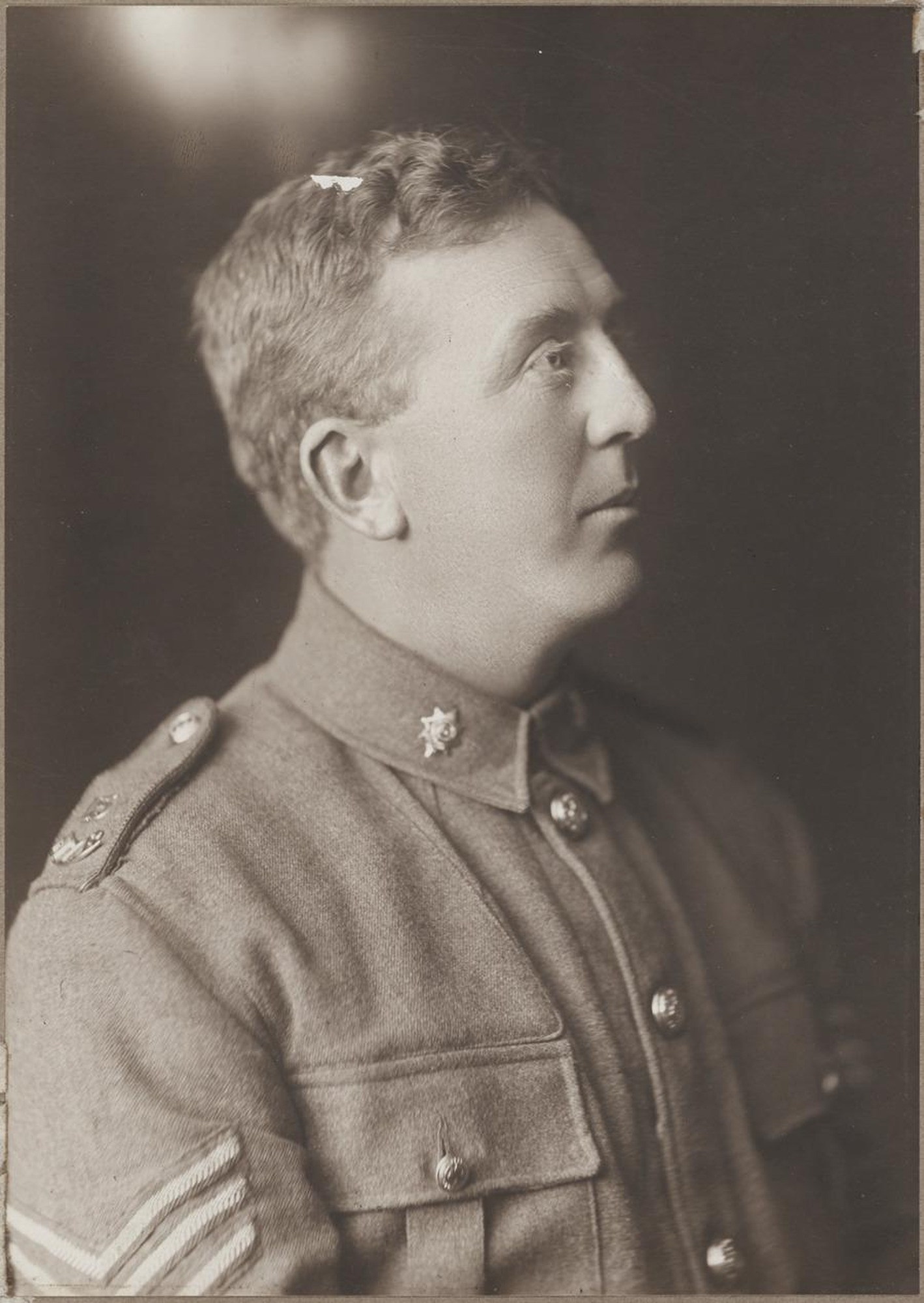 Allan Morpeth was the eldest son of Henry Douglas Morpeth and Kate, nee Allan of Waihi, New Zealand. He first attended Pirongia School in the Waikato and then Bayfield School, Auckland. It was here, when aged 14, he received a Junior Scholarship valued at £15 plus £10 if living out of town for Auckland Grammar School. The Auckland Star, 23rd February 1901, notified that Morpeth had passed his civil service examination.
Reportage in the Thames Star, January 1912 noted that Allan Morpeth and friends were cruising in an oil launch up the Piako River. They stopped at Kerepehi and while there, a lad roaming around the boat fell overboard. The alarm was given and Morpeth plunged into the river, rescuing him. The paper gave greatest praise for a prompt and plucky action.
The 1905-06 Bay of Plenty electoral roll gives Allan Morpeth's occupation as surveyor living in Waihi. There are two entries appearing in the 1911 roll for Morpeth. The first, in the Ohinemuri Electoral District and the second, the Thames Electoral District. Perhaps he moved from Waihi to Thames that year. In Thames he stayed at the Brian Boru Hotel, and worked as an Assistant Surveyor.
He was appointed Assistant Drainage Engineer on the Hauraki Plains and other drainage areas and made a hydrographic survey of the Waikato river.
It was not uncommon for birth dates to alter when applying for army service during WW1 and Allan Morpeth did reduce his age by one year. According to Morpeth's attestation papers he was born 13th June 1885 but his registered birth date is 13th June 1884. When in the field and writing in his diary, he commented of his birthday ….and now today is 11th June (1917). My birthday and wishing I was near enough to hear you all say "Many happy returns of the day". But I know you are saying it and that will have to suffice.
Allan Morpeth was unmarried and enlisted 8th January 1916 as a Private with the Auckland Infantry Regiment giving his residence as Waihi. Occupation: surveyor with the New Zealand Government. Morpeth left on 8th February 1916 for training camp and trained as a non-commissioned officer with the 15th Reinforcements camp. He was appointed Corporal 14 April 1916 then promoted Sergeant six weeks later. On the 16 September 1916, Morpeth was commissioned as 2nd Lieutenant 20th Reinforcements. Two months later he arrived in Devonport, England and was posted to the Auckland Infantry Regiment.
Early in May, Morpeth transferred to Base depot, Etaples, France and on 22nd May, the Battalion went into the field. He was attached briefly to the School of Instruction, July 1917 and rejoined his battalion in August of that year.
Allan Morpeth's diary is interesting for his observations on the life around him as he and the troops travelled by ship into the war zone. The ships, sea, birds, troops, day to day running of the army, treatment or lack of during port visits, the Germans, and campaigns he was involved in were all commented on. He censored soldiers' letters, a job he disliked. It's evident he had concern for the men under his charge, and did his best to ensure they were well fed and equipped, sometimes in trying circumstances.
According to The New Zealand Herald, 19th October 1917, Morpeth was listed missing, then notified killed in action.
Second Lieutenant Allan Morpeth was killed at Passchendaele, Belgium on 2nd October 1917 when the Hauraki's were heavily shelled. He was aged 33 years. Morpeth was getting his men into shelter when a shell ricocheted off an upturned limber (a two-wheeled vehicle to which a gun or caisson may be attached).
Second Lieutenant Allan Morpeth is remembered on the St James Presbyterian Church Waihi Honour Board, Auckland Grammar School Roll of Honour and with Honour at Oxford Road Cemetery, West Vlaanderen Belgium, grave reference I.E.3.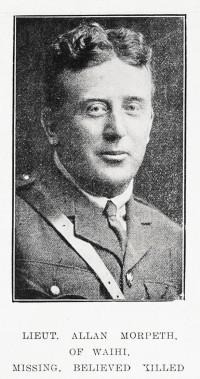 An un-named officer wrote "When he was Dump Officer to the 1st Auckland Battn at the Battle of Messines, he failed us in no particular, wire, water, rations and ammunitions all came along in ample quantities, and Allan's work was the subject of complimentary remarks by the Acting Battalion Commander".
In the early 1920's, Second Lieutenant Allan Morpeth's plaque, scroll, British War medal and Victory medal went to his mother in Morrinsville.
By Harriet Taylor October 2014
References:
The "Waiheathens" at Gallipoli transcribed by Allan Philip Morpeth
Diary of Second Lieutenant Allan Morpeth
Internal Affairs Department online Births, Marriages and Deaths
Commonwealth War Graves Commission
Ohinemuri Gazette
Paperspast
Internal Affairs Department B M D
Auckland Memorial Museum
ArchivesNZ Archway
Auckland Weekly News
De Ruvigny's Roll of Honour 1914-1918