Extracts from the first Minute Book…
On 25 Jan 1962 Mrs Nel Climie, Mrs Rosemary Morgan, Mr Ted Grant and Mr Reg Bell met at the home of Mr & Mrs Eric Lee-Johnson, Riverbank Terrace, to discuss the possibility of establishing a Waihi Museum and Arts Centre, using the old Technical School building (see below), which was to be purchased by the Waihi Borough Council. As a result of this meeting tentative aims and objects of the proposed Museum and Arts Centre were outlined as follows:
The Museum:
to be devoted to the history of Waihi and District, gold mining in Waihi and the Coromandel Peninsula.
to house the existing collection of geological specimens, photographs, and gold mining models at present displayed (inadequately) in the Borough Council Chambers.
to display as a central feature the unique and valuable glass model, at present in the library, of the Martha and Grand Junction mining excavations.
to provide space to expand the existing collection of local historical photographs and records of the mining and pre-mining days of Waihi, Waitekauri, Karangahake, etc, and to show this together with maps, books, and other records and relics of gold recovery methods developed in other districts of New Zealand.
to provide safe housing for the preservation of historically valuable family records, photographs, furnishings, and mining-day relics, citizens may in future wish to leave in trust to the town or present to the Museum.
to show geological formations of the Waihi District.
to display loan exhibitions of local interest from main centre museums, Hocken Library, Turnbull Library etc.
The aim would be to establish and run a Museum that would be a place of reference, and sufficiently alive and interesting enough, to bring visitors to Waihi.
Waihi Arts Centre and Museum Association (WACMA)
Waihi Arts Centre and Museum Association is a fully incorporated body registered with the Charities Commission.
It was set up in 1962, when the vacant technical school, a brick building which was built in 1913, was taken over by a group of enthusiasts who wanted to see an Art Gallery and Museum in the town. The building is owned by the Hauraki District Council, who support the Association through a reduced rental and funding upkeep.
The Original Technical School Building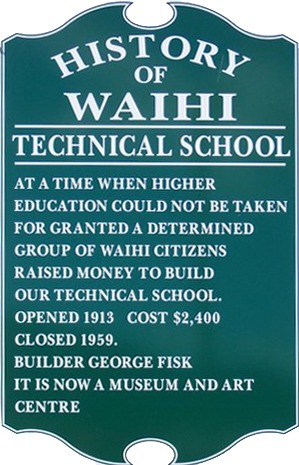 Our Museum and Art Gallery is housed in a plastered brick building which was originally built as a Technical School where girls learned cooking and boys learned wood and metalwork.
The school was built by George Fisk. It was opened in 1913 and closed in 1959.
The building which is owned by the Hauraki District Council, is now in it's 100th year and has a Category 2 listing with the Historic Places Trust.