Service number 12/1039
Private
6th (Hauraki Coy)
Auckland Regiment NZEF
Our training continues apace, though fortunately it is more varied. We had rather a wearisome march past the High Commissioner and General Birdwood the other day though it was not unimpressive. The Mounteds rode past, then the Transports, Ammunition vans etc, rumbled by. Company after company, battalion after battalion swept on in endless rhythm. It was a wonderful sight. We then immediately left camp and after marching ten perspiring miles over the desert bivouacked for the night. But, alas, for our well earned slumbers they were rudely interrupted by the shrill piercing of the alarm. It was almost midnight but up we sprung donning the necessary equipment and rushed to the essemble. We dug ourselves into the sand on the stony slopes amid whispering orders. We realised after a couple of minutes it was all pretence.Letter to Moore's parents and published in The Waihi Telegraph 3rd January 1915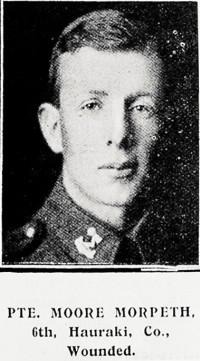 Moore Morpeth was born 10 May 1894, the fifth of the seven son's of Henry Douglas and Kate nee Allan of Waihi.
Morpeth was boarding at the home of his aunt Matilda nee Morpeth and uncle, Arthur John Hurndall, dairyman, of Hamilton Road, Ponsonby, Auckland when he enlisted with the Auckland Infantry Battalion on 12th August 1914. His attestation papers state he was a law clerk working for Stewart and Johnson, Auckland.
Although not in the same platoon as his brothers, Morpeth did travel on the Waimana with two: Gerald (Tad) and Robert Nicol (Nick). During the sea voyage, Moore had several short admissions into hospital possibly with a mild attack of measles doing the rounds and/or food poisoning. Letters home indicate Moore, Gerald (Tad) Morpeth, Nat (John Nathaniel Williams, best friend to Gerald) and mates played bridge on deck amongst sacks of potatoes. Moore, Gerald wrote on 19th October 1914, sleeps in one of the boats against the rules. By November, Moore was complaining of lack of food.
In a letter dated 2nd to 6th February 1915, Moore writes that he and Nat were out on an evening in Cairo, Egypt, when pickets arrived and ordered their return to camp for instant departure to their new camp at Ismailia. In a later letter Morpeth talks of visiting bazaars, having little money and being underpaid. He should have received 2/- a day but was paid 1/6d.
Morpeth embarked for Dardenelles, Alexandria on 12th April 1915. Richard Stowers in his book, Bloody Gallipoli (pg 341) wrote… He (Moore Morpeth) was in the first group of the Battle of the Landing on the slopes of Baby 700. When pushed back by the Turks on the slopes of Baby 700 an Australian was struck down near him so Morpeth went to his assistance. He was attending to the wounded man when hit by a bullet that paralysed him. His comrades were forced to fall back and the next day when the ground was retaken Morpeth was found dead.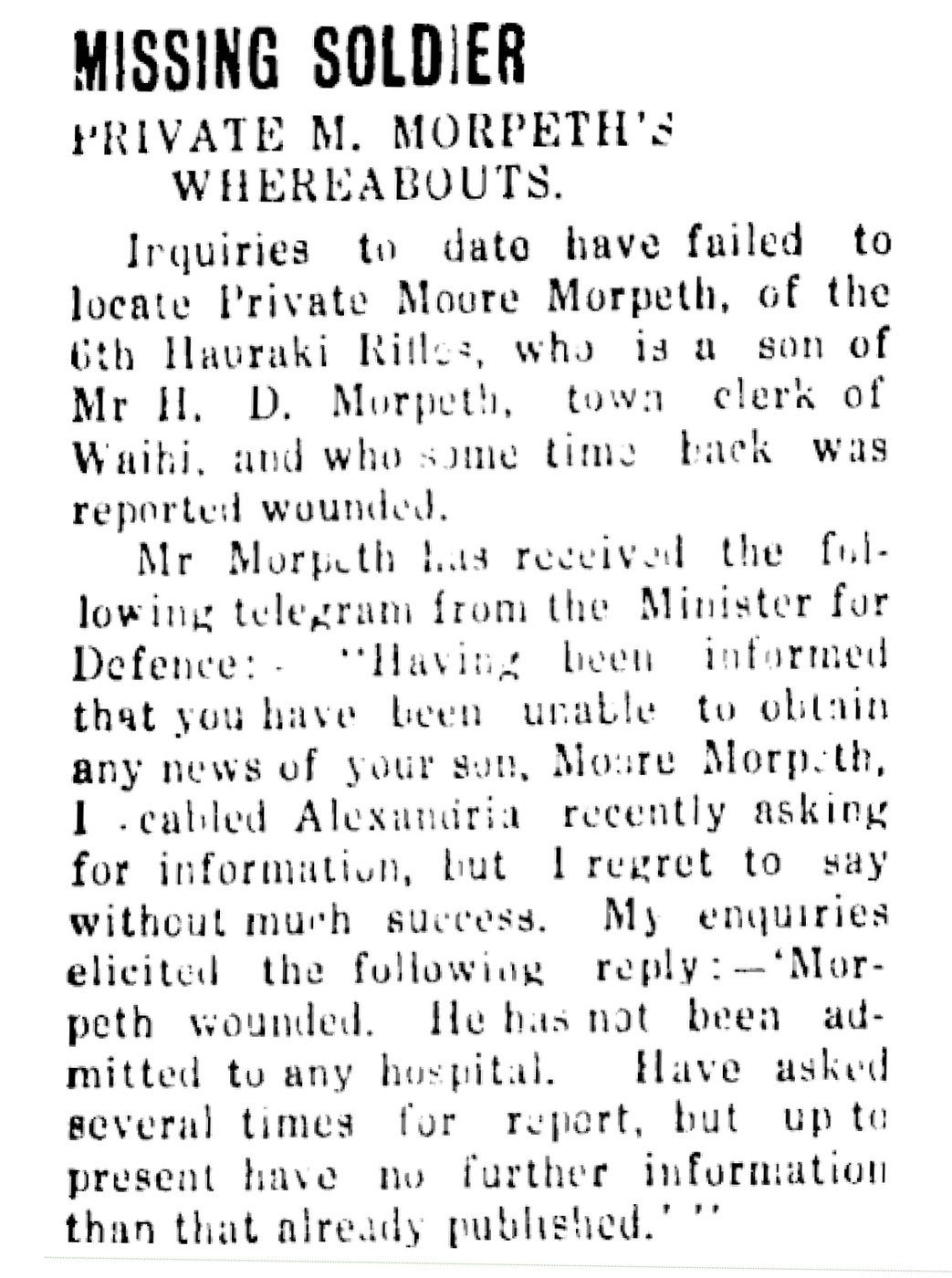 On 24th April 1915 Morpeth was reported seriously wounded and later the same day reported missing. The New Zealand Herald dated 6th December 1916, notes that Private Moore Morpeth took part in the landing at Gallipoli April 1915 as did his brothers, Lieutenant Nicol Morpeth and Lance-Corporal Gerald Morpeth. The finding of the Board of Enquiry, 16th January 1916 at Moascar Camp stated Private Moore Morpeth was killed in action, 25th April 1915 at Gallipoli, Turkey. Morpeth remained unmarried and did not leave a will.
To quote The Gallipoli and the Anzacs Gallipoli and the Anzacs visiting Gallipoli today website. The hill known as 'Baby 700', some 180 metres above sea level, was one of the main Australian objectives at the dawn landing on 25 April 1915. Part of the Sari Bair Range, 'Baby 700' connected Russell's Top with Battleship Hill ('Big 700') and was reached by small parties of the 11th and 12th Battalions a couple of hours after the landing. The few Turkish soldiers, who had been defending the beach area, were withdrawing back up the range.
Despite assistance from the Auckland Infantry Battalion the Turks forced the Australians and New Zealanders back to a line near where Nek Cemetery is today.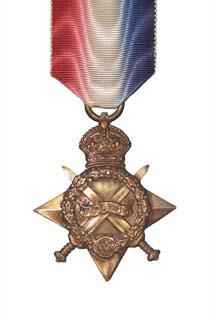 Photo: British War Medal
Private Moore Morpeth is remembered with honour on the St James Presbyterian Church Waihi Honour Board, Waihi District High School memorial list and Lone Pine Memorial Turkey. Moore Morpeth's British War Medal, Victory Medal and his 1914-15 Star went to his mother.
Harriet Taylor
Allan Philip Morpeth
January 2015
References: