John Nathaniel Williams Known as Nat.
Private 6th Hauraki Co Auckland Regiment, NZEF
Serial no 12/484 24 January 1878- 25 April 1915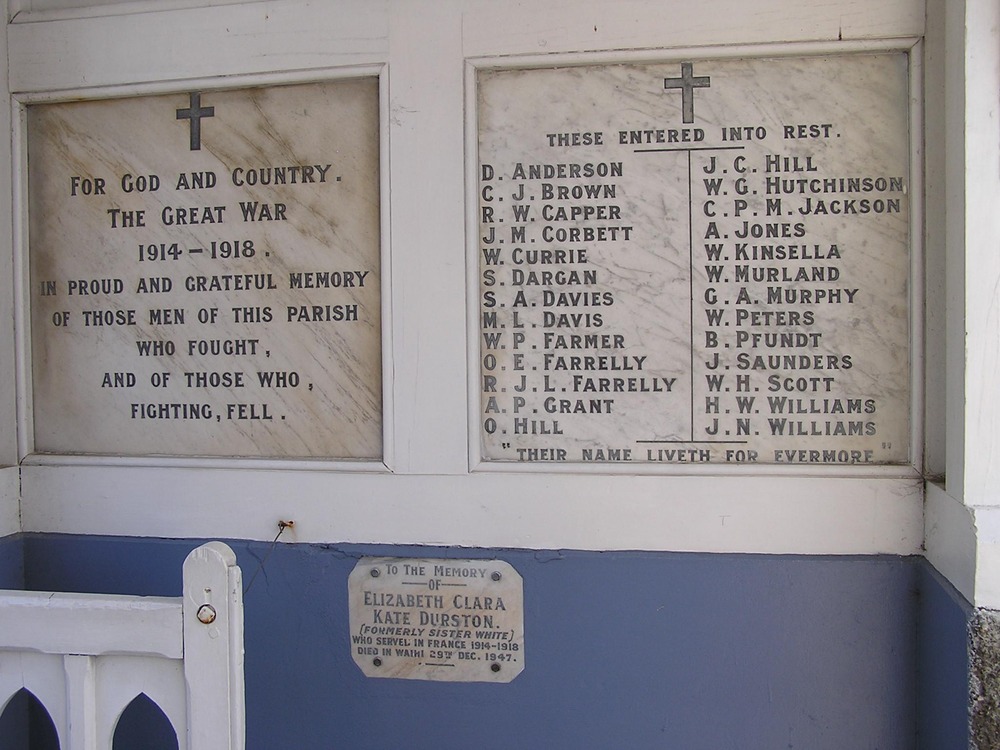 A name listed on the Roll of Honour on the lychgate at St John Anglican Church in Waihi is that of John Nathaniel Williams. Known as Nat Williams, he was a remittance man exiled to the Dominion of New Zealand by his influential father. At first Williams lived in Wellington then later, Waihi.
John Nathaniel Williams was born London 24th January 1878, the son of Col. Sir Robert Williams, 1st Bart., (Banker and Conservative M.P. West Dorset) and Lady Williams of Bridehead, Dorchester, England.
Williams appears to have commenced his education at the family home, 110 Westbourne Tce Paddington, London, as a governess was employed there in 1881. He attended Prep School, Eton and finally Oxford. The 1901 census records him boarding in Jermyn street, London, when an undergraduate at New College Oxford where he graduated M.A (1905). The 1911 UK census shows him in Upper Belgrave St., Bristol (where his father owned business and property) living with his sister, Rachel Sophia and three domestic staff. Occupation was Director, Engineering Business.
Williams was heir to his father and Bridehead, a country estate in Dorset. A talented cricketer, Williams would have made full use of the cricket grounds on the estate. The Western Gazette 8th September 1899, gives extensive coverage to the belated celebrations of his coming of age. The delay was due to his parents visiting their daughter and Nat's sister, Margaret, wife of the Bishop of Wellington, the Right Reverend Frederic Wallis in New Zealand. John Nathaniel, the article reported, had a fine physique and many sterling qualities that went with his future prospects. He had developed his father's taste for soldiering, was a good horseman and a capital shot. At 21, Nat had served five years in the Volunteer Corps at Eton filling all ranks from Private to Officer. While at Oxford he spent a year in the University Corps and in the 4th Dorset Territorial Battalion where he became a Captain. Williams resigned this commission when banished to New Zealand.
According to The Press (Christchurch NZ), John Nathaniel Williams was a member of the Lord Hawkes cricket eleven. This team played during the 1902/03 season and was Williams' first New Zealand trip. Cricket records show he played several games against provincial New Zealand teams.
The Times, (10 Feb 1909), wrote that Williams was adjudged bankrupt with liabilities of £20,479.9s when his income was £200.00. Previously in 1901 he was indebted to bookmakers and money lenders to £4,500.00 and again in 1906 owed £12,000.00. Each time his father, a banker, settled his debts. Inveterate gambling, constant debts and his father's displeasure very likely resulted in Nat's second New Zealand trip c1911. Nat's great nephew, Sir Philip Williams, writes that Sir Robert gave his son an ultimatum to live abroad as a remittance man or be disinherited completely.
Remittance men were provided regular funds by family and told to live overseas provided they never came home. If they returned, they had to make their own living or starve.
Once in New Zealand and living in Waihi, Williams was employed as metallurgist for Waihi Gold Mining Coy. John Nathaniel Williams enlisted with the Auckland Infantry Regiment, at Paeroa on 12th August 1914 and recorded his birth date as 14 January 1880, two years younger than his actual date. His stated army experience was 10 years 1st V.B. Dorset Regiment.
Williams travelled on the Waimana leaving Wellington 16th October 1914. To occupy time he played cards, usually bridge with Waihi's Morpeth brothers and others. The Morpeth brothers (sons of Henry Douglas Morpeth, town clerk, Waihi Borough Council) and especially Gerald (Tad) considered Nat a family member and was respected by them. On 4th November 1914 there was a Melbourne Cup sweepstake onboard which he won, collecting £15.00.
In a letter to his home in Waihi, (3rd January 1915), Moore Morpeth wrote that Nat had received a cable informing him his father had been created a Baronet, meaning he was now heir to the title. Moore commented that ….it was more an honour, of course, being offered by a Liberal Government to so strict a Conservative.

Williams' New Zealand army record notes he was in Egypt from 4th December 1914. The New Zealanders were reinforcing the Australians in the landing at Gaba Tepe (Turkey) on 25th April 1915. Tad Morpeth's diary and letters record the day Williams died. The gully was long and Tad, Nat and five others ….scrambled through scrub and up the steep side to the top and all the while bullets of rifle fire were singing over their heads. Williams set a good pace with the seven reaching the top and the remainder of the 5th platoon straggling up after them. Five of the seven were killed. Williams was injured when hit by a bullet in the right breast. Tad was attempting to get him to safer ground when Williams fell, stumbling on to his face. He did not respond when Tad spoke to him.

Great nephew, Sir Phillip Williams writes that ….Later in the War, Tad Morpeth was wounded and convalescing in England and brought Nat's belongings here. Tad and my grandfather Philip, became such friends that they wrote to one another once a month for the rest of their lives till my grandfather died in 1958.  I've seen some of those letters in Tad's son's house (Alan Morpeth) when in NZ a few years ago.

According to D Ruvigny's Roll of Honour 1914-18 …left for Egypt October 1914 and took part in the repulse of the Turkish Attack on the Suez Canal, Feb 1915 and the landing in the Dardanelles, 25th April 1915. He was killed in action that day at Gaba Tepe.

Major-Gen. Sir A.I. Godley, K.C.M.G., C.B., commanding New Zealand Forces, wrote: "he was killed leading and setting a most gallant example to the men in the forefront of the Battn., and all the officers, N.C.O.'s and men of the company speak of him on the highest terms of admiration and affection. He had evidently made himself most popular with them and respected by all, and had he not fallen he would have been given a commission in this force immediately after the first action. I believe the example which he set in enlisting, and dying as he did in the ranks, had done more for this force and perhaps for the Empire than he would have done as a commissioned officer."

From the Evening Telegraph (England) 7 June 1915 ….He had been recommended for a commission in a home regiment. The only surviving heir to the baronetcy, which was only created this year, is his brother Philip, born 1884.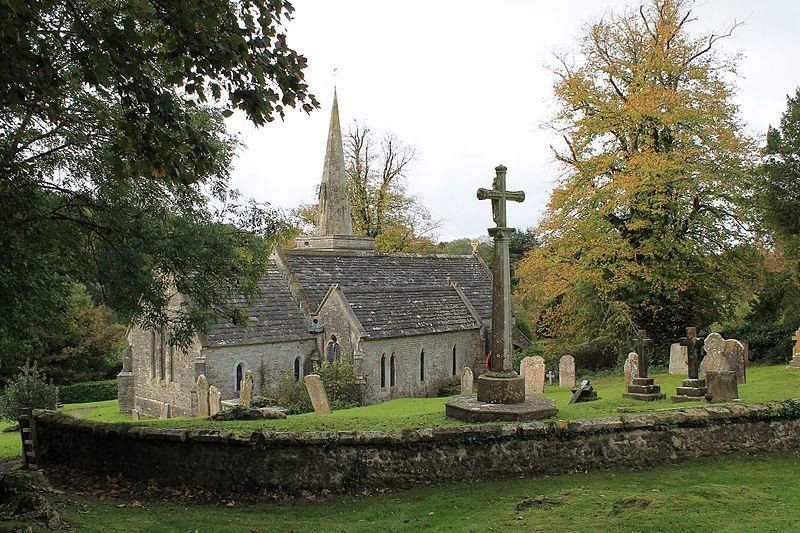 Photo Above :St Michael & All Angels, Little Bredy, DorsetSource: Wikimedia Commons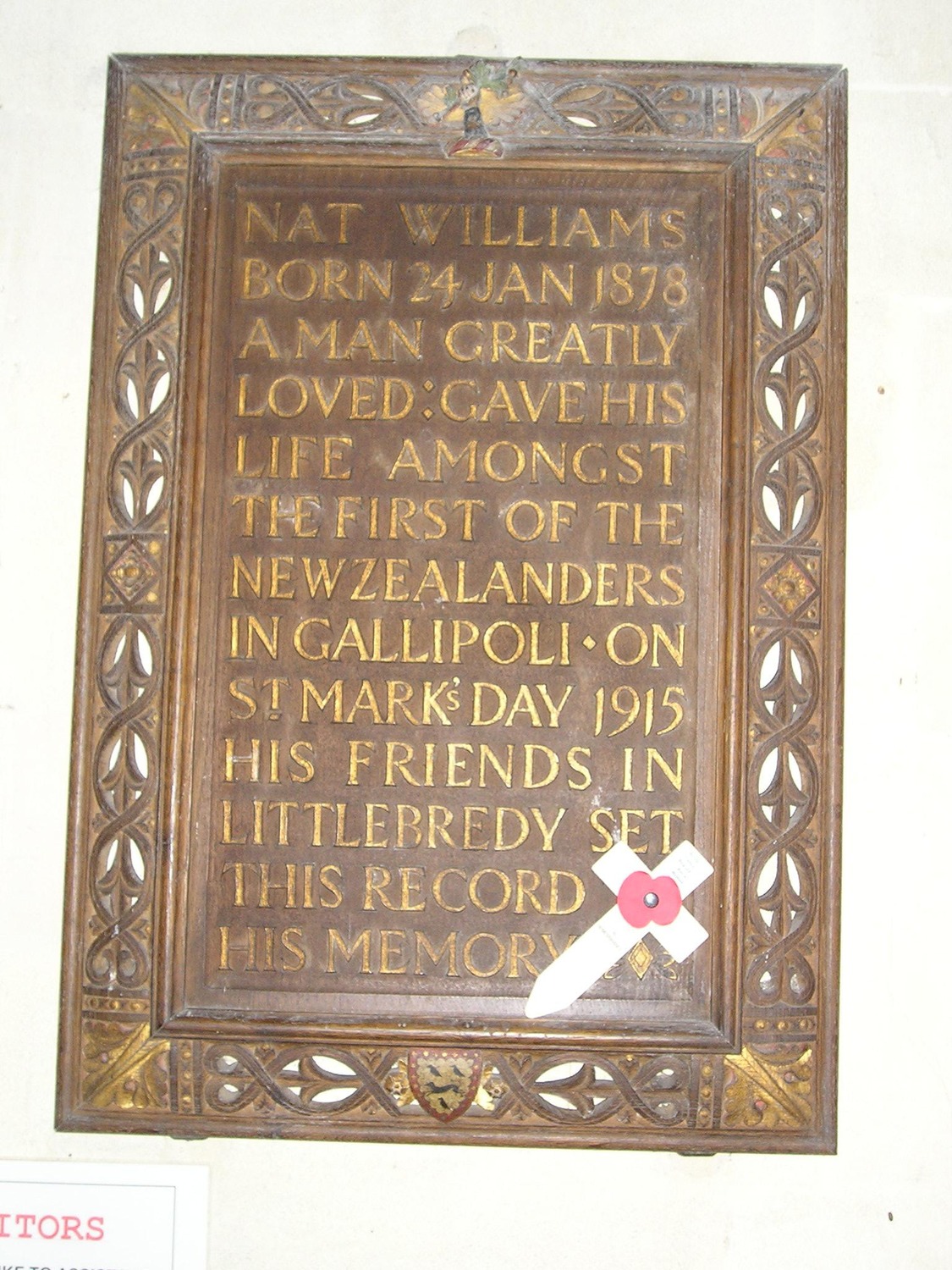 John Nathaniel Williams is remembered with honour along with six others on the memorial at Little Bredy (Dorset, England) and also commemorated in the Little Bredy Church of St Michael and All Angels: Nat WILLIAMS born 24 JAN 1878 - a man greatly loved – gave his life amongst the first of the New Zealanders in Gallipoli on St Mark's day 1915 – his friends in Little Bredy set this record to his memory.
The British House of Commons acknowledged John Nathaniel Williams on a memorial board dedicated to the Sons of Members of the House of Commons killed.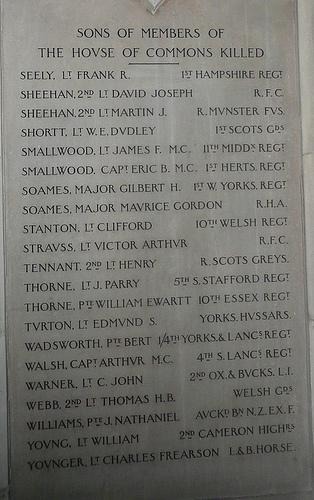 Photo Above: Sons of Members of the House Of Commons killed.Source: Flickr
John Nathaniel Williams is remembered also at Lone Pine Memorial, Turkey, and remembered in New Zealand alongside the 25 Waihi servicemen named on the lychgate at St John Anglican Church. Waihi, New Zealand. "Their name liveth for evermore"
John Nathaniel Williams' 1914/15 Star, British War Medal and Victory Medal went his Father in London.
© Harriet Taylor
Allan Morpeth
Sir Philip Williams
October 2014
References:
Allan Morpeth: The "Waiheathens" Diaries and letters of a Waihi soldier Gerald (Tad) Morpeth Transcribed by Allan Philip Morpeth.
Correspondence and photos courtesy of Sir Phillip Williams
Archives NZ Archway
D Ruvigny's Roll of Honour 1914-18
Evening Telegraph (England) 7 June 1915
1901 census LDN Westminster St James District 10
Little Bredy (Dorset England) Roll of Honour Transcribed and donated to the Dorset OPC Project
The online New Zealand Paperspast