(known as Harry)
6th Hauraki Company 2nd Battalion
Auckland Infantry RegimentSerial no 12/1103 Company Sergeant Major
13 August 1891 - 7 June 1917
Harry Keven was in a shell-proof, ferro-concrete dugout captured by the 6th from the Huns and a shell burst outside. Two pieces of the shell came through a window about a foot square and struck Harry in the neck and chest. I am not sure which wound killed him…Ref: Allan Morpeth diary C/O Allan Phillip Morpeth
James Henry Keven, known as Harry, was born at Thames on 30th August 1891, the second of five sons of Thomas Henry and Louisa Maria nee Moore, born Ireland. The family were living in Thames, 1890 but by 1896 had moved to Waihi, where Thomas was employed as a miner. The move may have been as a result of the bankruptcy of Thomas' tobacconist and stationer business.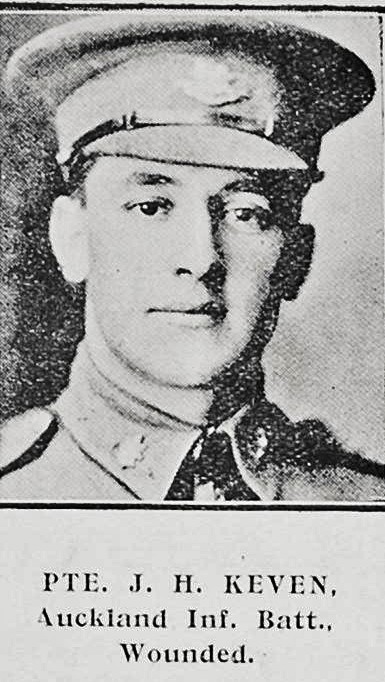 **Photo: **Acknowledgment to 'Sir George Grey Special Collections, Auckland Libraries, AWNS-19171011-38-2'
The family was interested in sport, Waihi Band and opera. Harry attended Waihi District High School and rode for the Waihi Cycle Club. He began work as a miner at the Waihi Gold Mining Company (WGMC) in December 1912 just after mining recommenced following the six month long Waihi miners strike.
In 1914, on the 24th February, H. Keven and three others were charged at the Waihi Police Court with failing to attend drill. Keven was convicted and ordered to come up for sentence when called upon during the next four months.
James Henry Keven signed his attestation papers the 11th day of August 1914 at Paeroa, when living at 6 Regent street, Waihi with his family. His previous military experience was School Cadets and 6th Hauraki Regiment "B" Company and employed by the Waihi Gold Mining Company. Once signed up, the servicemen trained in camps and as reported in the Ohinemuri Gazette, Harry was one of 'those for the front'.
Along with the 18,454 men who left New Zealand with the main body were approximately 3000 horses. Keven embarked in one of the ten troopships ships that sailed on 16th October 1914 to meet with the Australian Imperial Force in Albany, Western Australia. From Albany the ships set out for France to join the British Expeditionary Force. During the next three years Keven was recorded at Gallipoli, Dardanelles, Alexandra, Moascar and 'in the field' along with several stints in hospital due to either sickness or wounding. Possibly he also suffered from shell shock. His first admittance, May 1915, resulted in a transfer to Birmingham, England with unspecified injuries. Possibly it was this injury that caused Harry's parents, in September 1915, considerable concern and worry as nothing had been heard of him. On 15th September the Ohinemuri Gazette reported … Mr. Thos. Keven, of Waihi has received a communication from his son, Private Harry Keven, of the 6th Haurakis, concerning whose condition and where about there has been some anxiety on the part of his parents. Private Keven states he was invalided to the base hospital, suffering from shock, due to shell-fire He has had a lengthy experience in the trenches. By March 1916 he had rejoined his battalion. On 17th March 1917, he was diagnosed with a slight case of mumps.
Harry Keven was recorded as absent without leave and apprehended at 9 am on 29th January 1916. Punishment was to forfeit pay and 14 days detention.
Keven had several promotions, temporary then formalized. In April 1916 he was appointed temporary Lance Corporal, by June, Corporal and later, Acting Sergeant, Sergeant, Warrant Officer second class and finally in February 1917, Company Sergeant Major. During March 1917 he attended the School of Instruction.
The Wellington Dominion (21st June 1917) wrote that the …casualty list issued last night contained the names of 1003 members of the New Zealand Forces who took part in Sir Douglas Haigs advance at Messines a few days ago. It was this advance that ended the life of James Henry Keven when he was killed in action in the field 7th June 1917.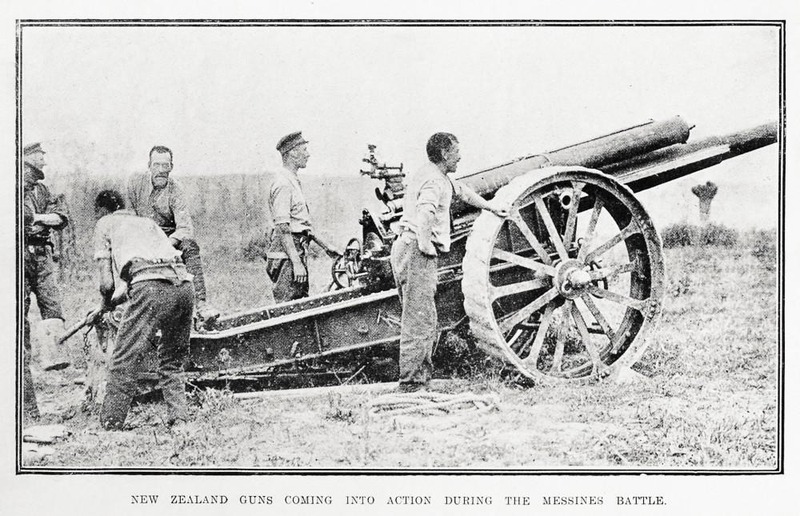 Photo: New Zealand guns coming into action during the Messines battle.Acknowledgment to 'Sir George Grey Special Collections, Auckland Libraries, AWNS-19171011-38-2'
The Ohinemuri Gazette related on July 16 1917 … Harry Keven, who was recently reported killed in action, was the son of Mr. and Mrs Thomas Keven, of Waihi, and left with the Main Body as a private. He was through the Gallipoli campaign, and obtained his commission in France this year. It is believed that he was killed on the first day of the offensive at Messines. Private Len Keven, who is with the Twenty-eighth Reinforcements, is another son of Mr. and Mrs Keven, and latterly lived in Auckland, where he was well-known in musical circles, being a prominent member of the Auckland Amateur Operatic Society.
Allan Morpeth from Waihi, (service no 18899) in his diary wrote of Harry Keven and Allan Claude Cooper, also Waihi, KIA, (service number 12/321) … *both have crosses over their graves there, and there they lie, good soldiers both of them on the famous ridge of Messines which they helped to win. I think that this is all I need to say about the fight for Messines but a good man could write pages about it. *
The Waihi Band in acknowledging Harry Keven's death, passed a resolution of condolence to Mr. H. T. Keven, an old bandsman, over the loss of his son at the front. Harry left everything to his mother. His medals were sent to her 6 Regent street, Waihi in January 1921. James Henry Keven is remembered with honour on the Waihi District High School Honour List, Waihi Wesley Methodist Church Honour Board, lodged at the Waihi Art Centre and Museum and Messines Ridge (NZ) Memorial, Belgium.
Harriet Taylor© August 2015
Reference:
Allan Morpeth Diary. With thanks to Allan Philip Morpeth.
Archivesnz archway
Ohinemuri Gazette and Wellington Dominion via paperspast
Waihi District High School Honour List.
Wesley Methodist Church Honour Board lodged at Waihi Art Centre and Museum.