In 1966 a reconstruction of the parent company PYE took place when the Dutch-based Philips organisation bought the company. However, this wasn't to have much direct effect on the New Zealand company until 1979-80 when Philips also took over the New Zealand operation of PYE.

Photo: Television manufacturing production line, 1970.

Photo: The PYE factory building on Moresby Avenue after the 1980 Philips take over.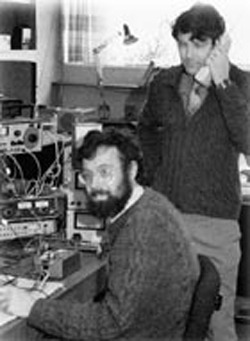 Photo: Alan Purvis (seated) and Newton Spargo just prior to closure in 1986. Both men still work at the old Pye buildings, managing their own companies.
1974 saw the commencement of colour television production.
This reached a peak very quickly in 1975.
With the takeover by Philips and their subsequent rationalisation of activities, 1981 saw the closure of the Paeroa factories and the staff and work shifted to Waihi.
Television production was shifted to Naenae in Wellington and all audio to Waihi. Then, because of major difficulties throughout the electronics industry in 1982-83, over 200 people from a total staff of almost 550 amongst the Waihi factories and the subsidiary Hamilton factories, were laid off in early 1983. In late 1983 the Hamilton factories were closed, the operations shifted back to Waihi, the plant manager, Mr R. Evans, appointed and the gradual climb back to a secure market was begun.
Staff morale was slowly but surely raised by a diligent management approach. Maintaining a policy of quality and flexibility and working closely with the Philips New Zealand Limited Commercial Divisions, the Waihi Plant continued manufacturing and assembling a wide range of products. These included home audio and in-car entertainment under the Philips and Pye brand names, coffee makers, irons and toasters, telephones and ancillary equipment for the Post Office and professional products for the Philips Electro Acoustic Division.
The Waihi plant became known as the Waihi Electronic Centre - Philips New Zealand Limited, with effect from January 1st, 1985.
Major Dates
1932: Business founded by K. M. Wrigley.
1933: Commencement of manufacture of Akrad brand radios - Futura, Luxor and Everest.
1942: King's Hall purchased for 600 pounds. Defence contracts secured. Production of morse keys and buzzers. Signal lamps and sirens for local defence.
1945: G. A. Wooller and Co. founded - distributors for Akrad. Staff numbers up to 50.
1946: January 1st, K. M. Wrigley died.
1947: T. J. F. Spencer appointed manager. Akrad Radio Corporation Ltd formed. Limited capital of 30,000 pounds.
1949: Began preparations for black and white TV. Approach PYE of Cambridge.
1951: PYE NZ set up. G. A. Wooller appointed Managing Director.
1954: First NZ outside TV transmission from Waihi's Rugby Park.
1955: G. A. Wooller and Green and Cooper (PYE's NZ agents) absorbed. Akrad principal manufacturing unit.
1958: Development and production of first single cabinet stereogram. First use of printed circuits in New Zealand.
1959: First production run of black and white television.
1960: First Paeroa factory opened in leased premises.
1961: First Hamilton factory opened.
1962: Opening of Moresby Avenue plant.
1963: Opening of Barry Road research and development laboratory. Opening of own building in Paeroa.
1964: Staff peak at over 500 in production of black and white television. Paeroa factory gutted by fire and rebuilt. Opening of Paeroa record pressing plant.
1966: Introduction of highly successful 'Sea phones' line.
1967: PYE of Cambridge sold to Philips.
1974: Colour television production commenced.
1977: Paeroa record factory closed. Takeover of PYE UK completed.
1980: Philips took over PYE NZ Ltd.
1981: Paeroa closed. Philips policy of universal rationalisation introduced. Colour TV to Naenae and all audio to Waihi.
1982: 50th anniversary celebrations.
1983: Frankton closed. Major redundancies.
1984: Sees the beginning of climb back to full production. Introduction of non-audio lines.
1986: September 26. Factory closed as part of Philips international re-structuring.
Managers
1932-46:  K. M. Wrigley
1946-47:  G. A. Wooller
1947-57:  T. J. F. Spencer (approx)
1958-60:  G. Rowe
1960-81:  R. Skinner
1981-82:  L. Horton
1982-83:  J. Foster
Staff Numbers Statistics (to 1982)
1932:  2
1933:  3
1937:  50
1943:  51
1945:  90
1951:  120
1958:  200
1962:  313
1964:  500*
1977:  640*
1982:  460* (405 in Waihi)
*Includes staff in Paeroa and Hamilton factories.1983-86 (closure).