Regimental no: 12/457
Quartermaster Sergeant
6th Hauraki Company
Auckland Battalion
Clive Arthur McLeod Swears was born Drury Auckland, August 1893, the fourth of the five known children of William Arthur (born Kensington, London, 1852-1907) and Frances Mary Woodward Swears nee FERRIER (1859-1941). William and Frances married on 14 June 1880, Barnsbury, England. They arrived in New Zealand with their two older children, Muriel (4 Years), Noel Mary (3 years) on 11 November 1885.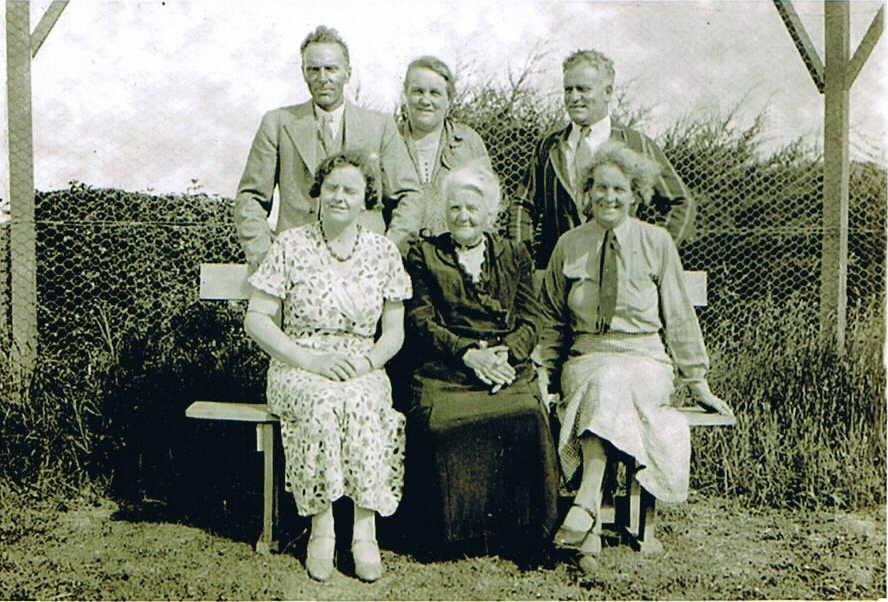 Back row: William James Swears, ?? , Arthur Clive McLeod Swears.
Front Row: Gertrude Maria Swears, Frances Mary Swears, ??.The two lots of question marks are Noel Mary WALTERS (nee Swears) and Muriel Frances HASZARD (nee Swears).
Clive Swears younger years may be traced by following his father's employment. The Sheep Owners Return: 1891, shows William, a farmer living at Manurewa with 85 sheep and by 1901: 198 sheep and still living at Manurewa. The 1893-1896 Franklin Electoral roll verifies the family living at Manurewa.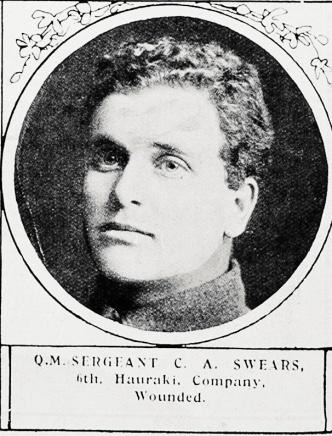 Clive Swears was admitted to Papakura Central school on 26 February 1906 from his previous school, P Valley (possibly Valley School, Pukekohe). In September 1906 he transferred to Manurewa. He also attended Alfriston school.
By 1907, the Swears family were living in Waihi as W. A. Swears was among twenty-two applicants for the position of secretary of the Waihi Hospital Trustees. The Waihi Daily Telegraph 3rd September 1907 reported a ballot was taken after all references were read out and numbers reduced after each ballot. W. A. Swears was balloted out.
During December 1908 Clive Swears was a cadet and Private in the Waihi High School No. 1 Company. The company was recorded as winning the Weekly Press Shield against the No. 2 Company. In February 1909 and at the Waihi School of Mines, Swears passed the Mechanical Drawing, third class at the annual government examination. The Waikato Argus, 2 September 1913 reported examination for first Territorial appointments for commissions, and that included Sergeant. C. A. Swears. In 1910 residential site 238A Waihi was transferred to Clive Swears, clerk and in 1916, transferred to Bertram WAITE.
When living in Savage road, Waihi with his widowed mother, he signed on for the duration of WW1 in Paeroa, 10 August 1914 and joined the Auckland Infantry Battalion. At the time he was employed as an electrical engineer for the Waihi Gold Mining Co (Martha Mine). His medical particulars recorded his height as 5ft 6inches and that he had had tonsillitis and rheumatic fever as a child. His heart was described as not normal and showing cardiac irritability but not of sufficient cause to be rejected for army service. He was promoted to Quarter-Master Sergeant 17 August 1914.
The New Zealand Force (NZEF) left Wellington, 16 October 1914, joining with the Australian Imperial Force and travelling in convoy across the Indian Ocean. Swears was one of approximately 8500 men with this convoy and in Egypt by 4 December 1914.
Swears embarked for the Dardanelles, Alexandra on12th April 1915 and wounded in action 25 April 1915 at Gaba Tepe, Gallipoli. He was admitted to 1st Australian General Hospital, Heliopolis, 30 April, with what was described as a shrapnel wound in his loin. By 26th May Swears was deemed sufficiently recovered and rejoined his unit, June 1915, at the Dardanelles and promoted to Sergeant-Major, 1st June 1915. During August the same year he became unwell with tonsillitis and invalided to New Zealand General Hospital, Cairo, Egypt and then to the Military Hospital, Malta, early September 1915. From there he was transferred by H.S. (Hospital Ship) Dover Castle to England and the Western General Hospital, Manchester, end of September 1915. The Western General Hospital was made up of buildings scattered throughout Manchester. While at the Western General, Swears suffered an epileptic fit (epitephform seizures) while sitting in front of a fire. Subsequently the seizures occurred from one to three times a month with no onset warning with headaches post seizure. His general health was described as good and apparently had no ongoing problems regarding the shrapnel. In February 1916 Swears was struck off strength (SOS), 1st battalion, Ismailia. Struck off strength means no longer one of the battalion, therefore no longer counted or included in the number of men the battalion has. At Hornchurch, attached strength of base, also February 1916, perhaps meaning he was counted at Hornchurch. Prior to repatriation to New Zealand he was at Hornchurch Convalescent hospital, Essex and again medically examined, 10 June 1916. At its peak, Hornchurch held 2500 mainly New Zealand servicemen.
All this caused Swears to be declared unfit for further war service and he was described as a quarter incapacitated, but fit for light duties in New Zealand and discharged from the NZEF.
Swears was invalided back to New Zealand, embarking 17th June 1916 on the S.S. Corinthic, travelling in the second saloon with three Warrant Officers. Fair weather was reported on the Hobart, Tasmanian leg that resulted in the Corinthic arriving into Auckland earlier than expected. The S.S. Corinthic docked on Sunday evening, 6th August 1916, at Auckland's Queens Wharf, with fifty three sick and wounded soldiers. The Medical Board and Bass Records Staff did not do the necessary military examinations that evening but waited until after the official welcome the next day. Instead, soldiers were allowed ashore provided they returned at 8 am the next morning. The next day, the Auckland Mayor, Mr J.H. Gunson, dignitaries and many relatives welcomed the returning men who were given what was described as a 'splendid reception'. At the reception, the soldiers complimented the Captain, ships officers and Sister Sisley, the New Zealand nurse from the Walton- on-Thames Hospital who accompanied them. The women's Patriotic League supplied light refreshments and the men were treated with motor car rides and given large quantities of fruit.
Amongst the sick and wounded aboard the Corinthic were thirty-five of the 150 recruited Niue Islanders (New Zealand Pioneer Battalion). The Niue Islanders were repatriated home from the war zone, due to temperature changes, weather conditions and their susceptibility to pneumonia. Despite repatriation and the medical care on the Corinthic, five Niue Islanders died enroute to New Zealand. At the voyage end, a thank you letter from the Niue Island soldiers was given to the ship's Captain. The letter suggests a pleasurable and mainly healing voyage with concerts, deck games, including cricket, adequate exercise space, good food, clean white cabins, comfortable beds and most importantly, caring medical and nursing staff.
Swears was discharged from overseas service 4th September 1916 to Haszard street Waihi. As a temporary NCO 20th September 1916, Swears was transferred to Thames No 2 Group as a Temporary Sergeant Instructor. He was described as having an exceptional ability to impart knowledge and a good instructor.
Swears again attestated, 23 July 1917, in Paeroa. This time his medical report noted tonsillitis, rheumatic fever, inflammation of his right kidney and cardiac irritability but no indication of seizures. His medical condition was described as constitutional and aggravated by active service and therefore unfit for overseas duty but fit for light duties in New Zealand.
A Territorial training camp was held at the Claudland showground, Hamilton from May 4 to June 1 1918. Territorial's attending this camp were required to allow seven days clear training but could go into camp any Saturday. Amongst the Instructional staff was Sergeant-Instructor C.A. Swears. A rifle meeting was held at Te Aroha in April 1919 for Territorials, senior cadets and members of riffle clubs in the No 2 Group. C.A. Swears was one of four scorers.
Swears kept busy with Returned Servicemen activities. A Branch of the Waikato Association of Returned Servicemen was formed in Paeroa, February 1918 and Sergeant-Major Swears was a committee member. In August 1918 a Returned Soldiers dance was held at the Central Theatre, Paeroa organised by Women's National Reserve and Swears was one of two MC's. His next recorded M.C. duty, along with Mr. D. VINCENT, was June 1919, when the St Paul's Ladies' Guild organised a social and euchre tournament in the Central Theatre for returned soldiers. Many attended and the night was described as ideal for dancing and the floor in excellent order.
Prior to July 1919, Swears was in line for a position as a substation engineer with the Addington (Christchurch) sub-station with the Lake Coleridge Electric Power scheme. Swears did not have the relevant qualifications for this position but the intention was to train him. This employment did not eventuate due to the incumbent remaining in the position.
Swears was discharged at his own request from temporary duty as sergeant- instructor, receiving his final pay 28 Aug 1919 due to uncertainty of a permanent position in the N.Z. Defence Force. Swears was offered and took employment as an electrician with Wilson's cement works, Portland and according to the 1930 New Zealand Towns Directory, lived at Titoki.
The next move for the family was Motukawa road Tarata, Taranaki. Swears was employed as an electrical engineer at the Taranaki Electric Power Board to 1957. Later he was a clerk living in at 35 High street Eltham, also in Taranaki. On retirement Swears and his wife moved to 56 High street, Eltham.
Clive Arthur McLeod Swears and Dorothy Florence TREGENNA were married on 10 September 1919 and had seven children.
Swears evidently received his Master sailing certificate from the port of Hamilton and was proud of this as he could sail anywhere around New Zealand.
Swears received the British War medal, Victory medal, 1914/15 star, also nicknamed Pip, Squeak and Wilfred medals and in 1967 Swears received his Gallipoli lapel badge. This bronze medallion was instituted in 1967 and award to Australian and New Zealand personnel who participated in the Gallipoli campaign in 1915. Because of insufficient space on the scroll, the rank and number was omitted. Clive Arthur McLeod Swears is acknowledged on the Waihi High School Roll of Honour (Auckland Star 24 March 1916 pg 2)
In August 1941 and during WW2, Swears was posted to the Inglewood Battalion as a temporary Lieutenant.
Family describe Clive Arthur McLeod Swears as a principled man, with a quiet and gentle nature and a deep chuckle when something amused him.
Clive Arthur McLeod Swears died 3rd February 1973 aged 79 years at Eltham, Taranaki and buried 6th February 1973 at Eltham Returned Servicemen Association Cemetery, new plot ID 4014, Block 6.
© Harriet Taylor 07 May 2018
My thanks to Swears family descendants for assistance.
Reference: