Small Beginnings
The town of Waihi was founded on the industry of gold mining in the latter part of the last century. The original tiny settlement quickly grew and prospered, out-shining many of its neighbouring townships.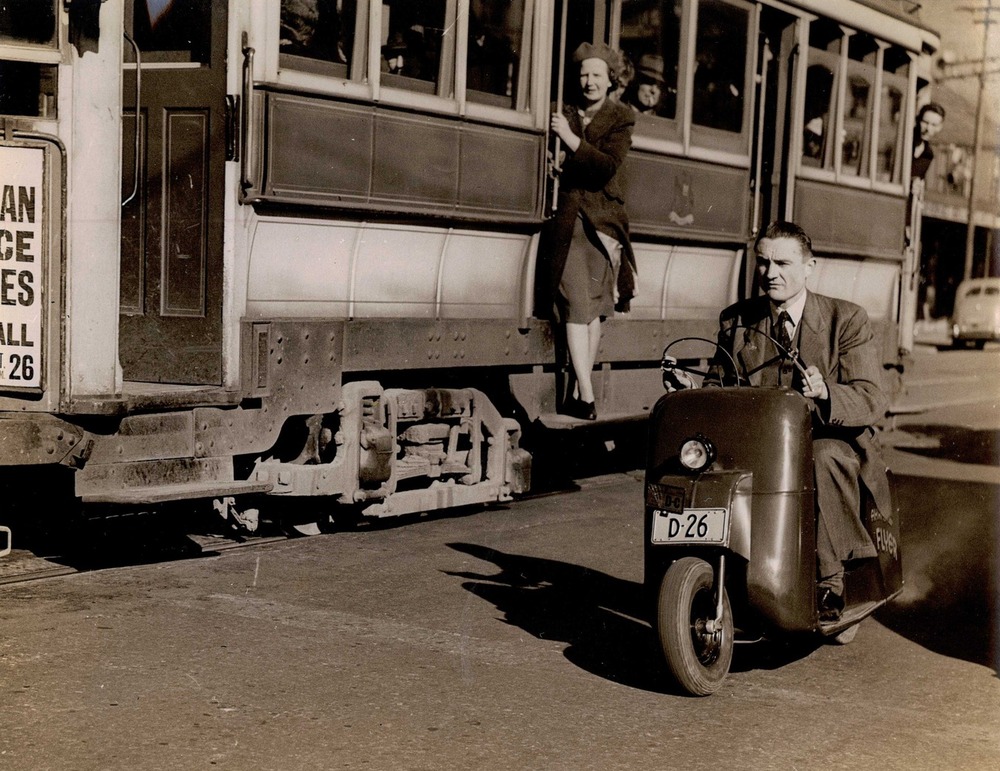 Photo: The prototype 'Akrad Flyer' motor scooter.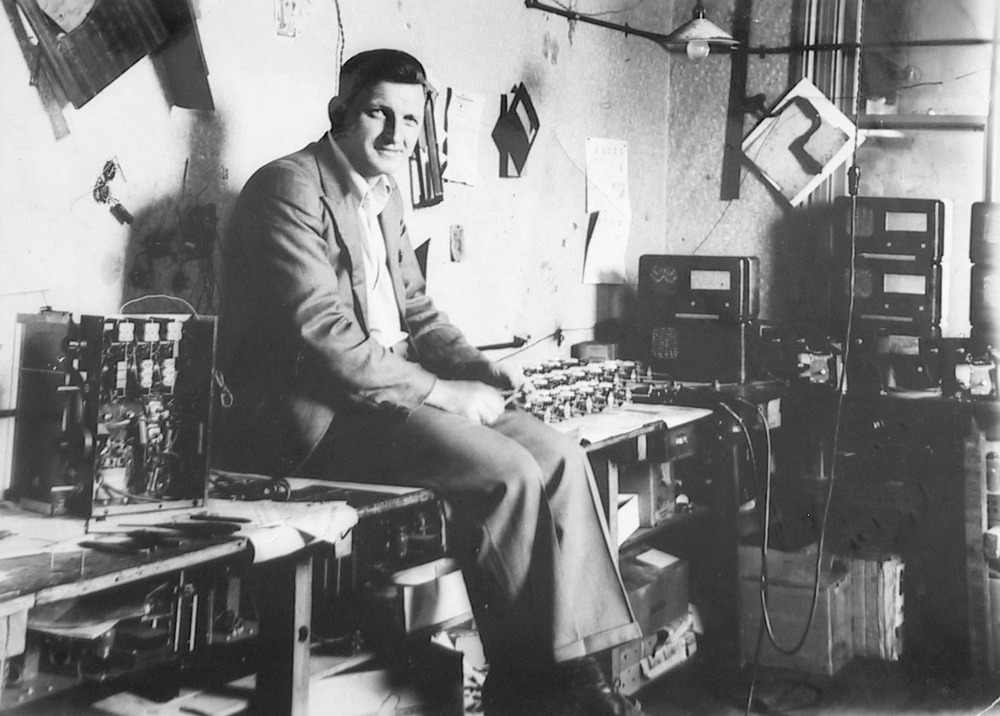 Photo: Mr R. E. Skinner, who later became Factory Manager from 1960 to 1981. This photograph was taken at the radio assembly factory in Seddon Street, Waihi, prior to WW II.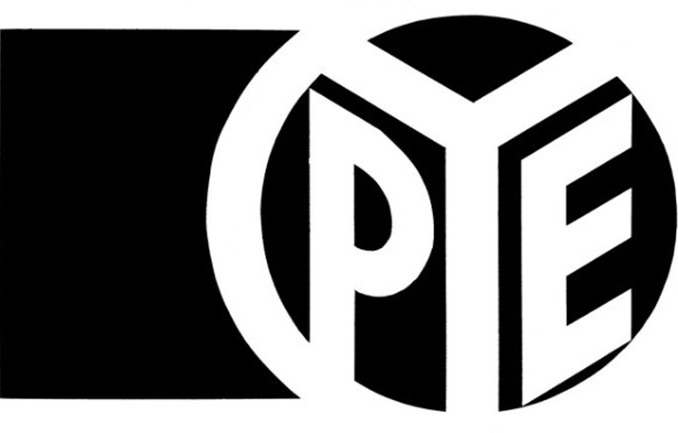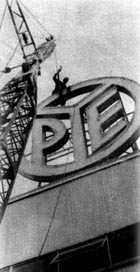 Photo: In March 1982 the Pye sign was removed for repair, and in June that year was re-mounted and illuminated at night.
However, in the early 1950s it was thought uneconomical by the mining companies to continue their operations, maintenance was stopped, machinery allowed to run down and by 1952 the world famous gold mines of Waihi came to a close. Many people expected the township to suffer the usual ignominious fate of so many other defunct gold mining towns and become yet another 'ghost town'. This was not to be the case with Waihi, however.
Founded upon a pioneering spirit as deep as any other community in New Zealand, Waihi was quickly to be seen rising phoenix-like from the ashes of her historic past. Waihi, a township founded upon gold, that precious metal inspiration to men`s dreams from time immemorial, was again to focus its attention upon a new dream-inspiring industry. The as then, new and exciting industry of electronics.
In 1932 a local boy recently returned from Auckland and just qualified with his Radio Serviceman`s Certificate, opened in lower Seddon Street a radio sales and repair shop. This young man was Keith Marsden Wrigley, eldest son of Mr J. M. Wrigley, reporter and writer on the staff of the 'Waihi Telegraph'. His knowledge of electricity was in the main gained from the Waihi School of Mines and he later obtained his technical knowledge of radio through correspondence schools.
At that stage, of course, radio was still new and the radio trade in its infancy. In fact there were only a handful of radios in Waihi, many made by enthusiastic amateurs. While it was recognised that radio had a tremendous future, none realised the rapid advancement that was to occur in the immediate years ahead.
Initial Growth
With the commencement of even this small quantity of radios, space became really short and it was found necessary to shift to new premises. A large lean-to extension was built onto the back of these premises by Keith and his staff and while it was still being constructed a borough councillor called in and asked if they had a building permit. This was rather a bombshell as no one had any idea such a thing was even required. The building was duly completed nevertheless, under a benevolent smile from the council.
One big advantage of the new site was the laying on of compressed air over the back fence from N. F. Morton's garage which at that time was located in Moresby Avenue to the rear of the Waihi Hardware Company`s premises.
Keith Wrigley opened his little Radio Service shop with a capital of 52 pounds, a minimum of stock, one mantel radio and a handful of radio parts. He had a test meter which he had built himself and a valve tester which he had bought second-hand in Auckland. In typical 'do it yourself' pioneering fashion Keith had also painted the shop inside and out, written the signs and built counters, benches and shelves. Despite the looming depression business prospered and by the end of 1933 Keith had a staff of two working for him.
At about this time Keith made the decision that he could make radios cheaper than he could buy them. An initial production run of twelve was made. Both money and plant were still short however and bare steel chassis were bought with only the large holes punched. The balance of the holes were drilled by hand and the chassis finally painted with a home-made spray gun. The air for the gun was supplied by a hand-operated car pump.
Having thus commenced manufacture, Keith would load up his car and head off for the surrounding districts to sell off the latest batch of radios.
Now that extra room was available it was decided to manufacture such components as radio frequency coils and transformers, which meant a further increase in staff and the building of winding machines. These machines were designed and built after work, very often into the early hours of the morning by Ernie Hands.
Keith`s enthusiasm was infectious and was not only felt by his staff who worked long hours when overtime payment was unheard of, but also felt by others who allowed their lathes and machinery to be used to make many of the original machines used by Akrad. Akrad, as the firm was known, was an abbreviation of Auckland Radio and was used originally as a simple and easy to remember trademark or brand name for radio components. Radio brand names used in these early years were Futura, Luxor and Everest.
Next: World War Two