Alexander Hislop 17788, Rifleman
Private 4th Battalion, 3rd New Zealand Rifle Brigade, H Company.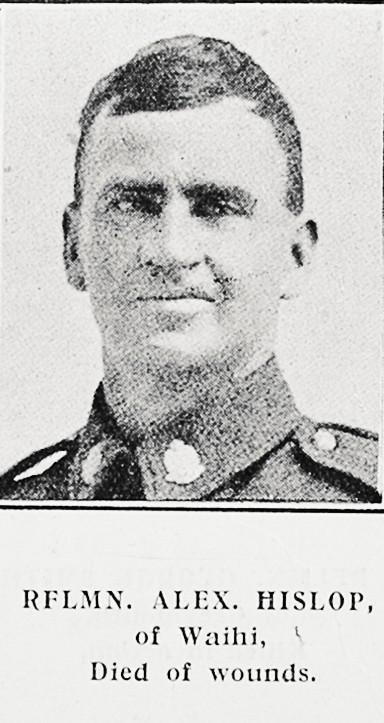 Photo: Alexander Hislop Image courtesy of Sir George Grey Special Collections, Auckland City Libraries.
While Alexander Hislop was growing up, his family moved around New Zealand living in various mining towns, in the North and South Islands. Hislop saw a lot of his homeland before going overseas in 1916 during WW1. He spent time in prison and coped with the deaths of three family members so perhaps was better equipped to cope with the harsh realities of war than some of his peers.
Hislop was born in Brunner, on the West Coast of the South Island, 11th January 1889, the eldest son of Robert and Caroline Ellen Hislop. By 1895 the family had moved from Brunner to Kawakawa in Northland, where Alexander attended Kawakawa School.
Caroline Hislop and her children moved to Waihi in early 1900. Her husband, Robert, remained in Kawakawa, Northland where he was mine manager at the New Bay of Islands Coal Mine. While visiting his family in Waihi in October 1900, he became ill and died.
In July 1907, Alexander Hislop then aged 18, made an application to the Waihi Borough Council for dray work. The Council resolved that he be given work at the first opportunity. By 1911 he was working for the Waihi Gold Mining Company as a miner.
In May 1912 Hislop joined the striking miners at the start of the six-month-long bitter dispute and on 20th September was one of the men charged with "following and annoying engine-drivers". They were asked to pay a surety to keep the peace for 12 months; they refused and were sent to Mt Eden Prison in Auckland. The initial sentence was 12 months but a businessman, Ernest Davies, paid their bonds, and they were all released on 15th November.
Hislop's two younger sisters were both in the Miners' Hall at the time of the raid on November 12th when a policeman was shot and a miner, Fred Evans, was badly injured. The policeman survived but Fred Evans died the next day.
After the strike Hislop left Waihi and returned to the West Coast of the South Island where he was employed by the Department of Public Works on the construction of Otira railway tunnel.
Hislop enlisted on 9th April 1916 in Greymouth, altering his birth year to 1888 on his attestation form. His military record states he was 5'10 ½" tall, dark complexion, grey eyes and black hair. He left New Zealand on 29th July 1916 aboard the troopship Ulimaroa.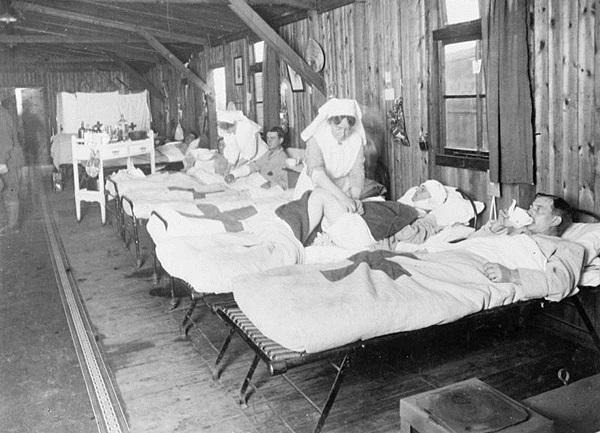 Photo: A ward of the 2nd Australian Casualty Clearing Station (CCS) at Steenwerck, November 1917. Hislop was taken to the 2nd Australian CCS and died there. Photo thanks to © IWM (E (AUS) 4623) and Terry Heard and Brent Whitham for permission to use it (www.ww1cemeteries.com)
After spending two weeks at Sling Camp in Bulford, Wiltshire, in H Company, Hislop left England for France, where he was posted to D Company. Eight months later on 11 June 1917, at the Battle of Messines, Hislop was wounded in the back, the shot penetrating his lung. He was taken to the 2nd Australian Casualty Clearing Station where he died a few hours later. Alexander Hislop was buried at Trois Arbres Cemetery, Steenwerk, Nord, France.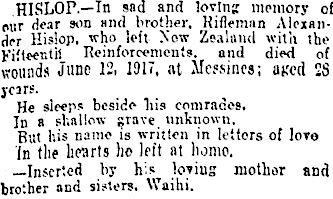 Photo: Hislop in Memoriam - acknowledgement to NZ Herald 12 June 1918 located PapersPast
His mother, Caroline Hislop moved to Queensland, Australia in 1919 and married Ernest Henry John Waye. Alexander Hislop's medals were sent to his mother at Hampson Street, Kelvin Grove, Brisbane, in December 1921.
February 2015
References: